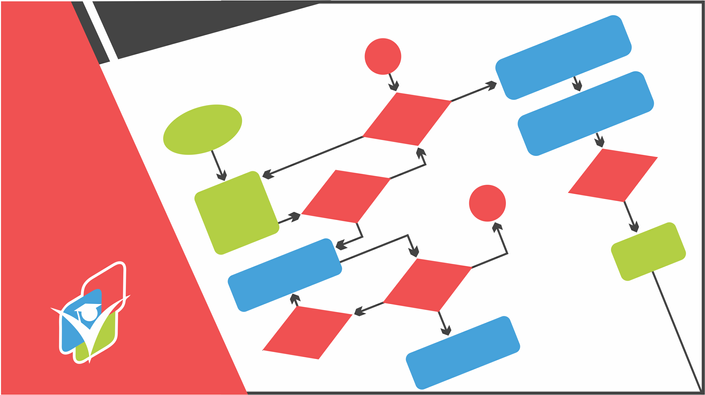 The Advanced Guide to Process Flowcharts
Take your process flowchart and modeling skills to the next level with advanced symbols, concepts, and best practices!
Watch Promo
TAKE YOUR PROCESS FLOWCHART AND MODELING SKILLS TO THE NEXT LEVEL BY LEARNING HOW TO EXPLAIN COMPLEX PROCESSES AND MAKE THEM MORE EFFICIENT.

Learn advanced symbols, concepts, and best practices to build upon the basics you've already learned and understand how to diagram even the most complex business processes with intuitive flowcharts.
In my experience managing and working as a Business Analyst, I've created thousands of flowcharts. And while I can now create flowcharts that are easy to read and understand by anyone who comes across them, early on, it wasn't the case.
Now you can learn from my trial and errors.
This course builds upon the basics you learned in the previous flowchart course. Using clear language, I will teach you how to use advanced symbols, concepts, and best practices to diagram even the most difficult business processes with intuitive, easy-to-understand flowcharts.
Course enrollment grants you lifetime access, with no expiration, to all the course lectures, activities, handouts, and quizzes. In addition, you'll also receive 1-on-1 support for any questions or uncertainties that come up. And this all comes with a money-back guarantee. You have nothing to lose and so much to gain.
Note - All of the teaching, templates, and solutions in the flowchart courses make use of Draw.io – a free online flowcharting tool – instead of a paid program, in order to ensure all students are able to follow along with activities.
What's Included in this course?
High Quality Video Lectures explain the complex terms and confusing jargon to ensure you get a concrete understanding of the concepts being discussed.
Downloadable Templates and Resources mean you can hit the ground running when you have to create your own process flowcharts.
Quizzes and activities validate your learning and increase information retention as well as understanding.
1-on-1 Instructor Support means that any confusion or questions you have can be addressed and cleared up easily (no more frantically googling trying to figure out what your course instructor means).
Lifetime Access with NO Expiration so you can learn at your own pace and come back at any time you feel unsure or need a refresher.
In addition to all the tools you'll need to gain a deeper understanding of process flowchart mapping, you'll also get a foot into the industry by way of an industry expert…
I'm not just the instructor who wrote this course, I will also act as both a resource and a mentor to guide you to a long and rewarding career in Business Analysis!
Just ask the students who've already taken this course:
★★★★★ " Excellent, I have already used the flow charts for different aspects at work. It has made developing a process and illustrating it so much simpler." - Mark
★★★★★ "The advanced course is a great follow on to the beginners guide to process flow charts. The addition of new symbols helps to make the process map process more clear!" – Maria
★★★★★ "The course provides a well-structured sequence of activities; thus, enabling the student to absorb the contents more readily. The content is perfect for describing how and where to use the various symbols without over-complicating the explanations. An excellent presentation for anyone wanting to become more acquainted with the procedures involved in process mapping." - Robert
The BA Guide's TEACH, SHOW, DO technique
This course makes use of The BA Guide's TEACH, SHOW, DO technique – a method I've developed over my years of experience in the industry training and managing Business Analysts. This technique will help ensure you with total comprehension of the topic at hand and maximum information retention long after the course is finished.
TEACH – You first learn the concept, in detail, from the ground up. But I won't simply teach you the concept in isolation – you'll learn HOW and WHEN to use it too.
SHOW – Once you fully understand the concept, we enhance that by walking you step-by-step through real-world examples – so you can see exactly how the concept would pan out if you were to apply it in the real world.
DO – Firmly cement everything you've learned so far and put your new knowledge to the test by completing the included activities and quizzes. Validate you've fully understood the concept and greatly increase your ability to retain the information you've learned.
"Tell me and I forget. Teach me and I remember. Involve me and I learn" – Benjamin Franklin
Why should I enroll?
Process flowcharting is an essential part of business at every level – since you will be seeing and working with process flowcharts no matter your role, this course will be useful to you even if you are not a Business Analyst.
If you're an aspiring Business Analyst these skills will give your resume a huge boost as well as provide you with the knowledge to confidently answer any related interview questions.
For current Business Analysts, these skills will result in more effective problem solving. Any issues that arise in your organization's business processes will be easily dealt with thanks to the clear and comprehensive process charts you've produced for them.
Finally, I believe in respecting my students' time – and I want to teach you what you need to know to successfully utilize these models without bogging you down in unnecessary details or theory. That's why the process flowchart mapping techniques taught in this course are taught with no fluff added.
And if you're still not sure – here's my promise to you:
This course comes with a 30-day money back guarantee! That means, if you aren't completely satisfied with your purchase, I'll give you a refund – no questions asked!
★★★★★ "It was a wonder to learn, adding value to my current job, making communication easy to my clients, sr. management. Appreciate the effort put in by the lecturer." – Rajinder
★★★★★ "Very explanatory and concise. Instructor is very knowledgeable in the course area. I now have better and in depth understanding of flow charts. Thanks Jeremy." – Teye
By the end of this course you'll have a clear understanding of how to create easy to understand flowcharts for even the most complex business process.
So, if you're ready to take your process flowchart mapping skills to the next level and become a more efficient problem solver that saves your organization even more time and money, then enroll today and start building on your existing process flowchart skills.
Your Instructor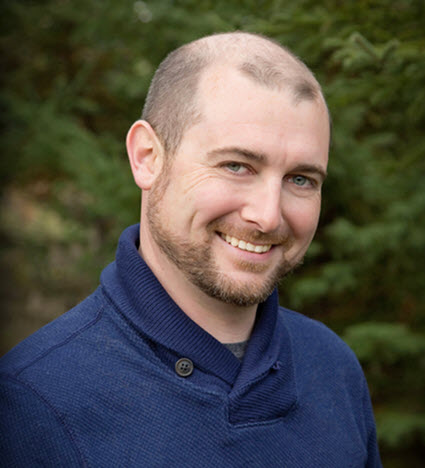 Come learn with more than 330,000 students from around the world!
Hello! My name is Jeremy Aschenbrenner, but many know me better as The BA Guide, and I'm happy you are here.
I'm a veteran Business Analyst with thousands of projects completed throughout my career. I've managed business analysis projects for companies in diverse industries including health care, telecom, automotive, transportation, consumer packaged goods, car rental agency, food and beverage, financial services, consulting, and more.
Through personal experience, I quickly learned that business analysis can be confusing and even intimidating. There's endless business jargon, technical terms, techniques, and methodologies to learn, and countless visual diagrams, artifacts, elicitation sessions, interfaces, and KPIs to wrap your head around. I've been there and learned all of that. Many years ago, I also learned a valuable lesson about myself: I really enjoy mentoring others. This was the inspiration for The BA Guide.
Here is where I come in and offer guidance.
I take that broad world of business analysis and build a structure and processes within it. I then break down those individual segments until they are easy to understand by using real-life examples and scenarios to make them relatable. Finally, to help solidify and reinforce your knowledge and understanding of these key concepts and processes, I follow up with activities and quizzes.
Whether you're an aspiring or current Business Analyst, The BA Guide courses are created with you, the learner, in mind. By design, the courses I've created are optimized for flexible learning in video format so you can learn at your own pace, when it's convenient for you.
If your goal is to explore the world of business analysis or upskill and advance your career, whether that be as a Business Analyst, an Agile Analyst, a Process Analyst, a Product Owner, an AMAZING Administrator, or anything in-between, I'd love to help.
Feel free to post on the course Q&A board, message me on Udemy, or connect with me on social media. I look forward to helping you reach your personal and professional goals.
Happy learning!
"Whether you think you can, or you think you can't – you're right." - Henry Ford
Frequently Asked Questions
When does the course start and finish?
The course starts now and never ends! It is a completely self-paced online course - you decide when you start and when you finish.
How long do I have access to the course?
How does lifetime access sound? After enrolling, you have unlimited access to this course for as long as you like - across any and all devices you own.
What if I am unhappy with the course?
We would never want you to be unhappy! If you are unsatisfied with your purchase, contact us in the first 30 days and we will give you a full refund.